WOW! What An Event!!



The 43rd annual Colorado SCI Banquet is in the books. Many of us are still trying to catch up (and rest our feet!) after an awesome night spent with 500 like minded folks supporting conservation, charitable organizations, and our hunting rights not only in Colorado, but across the country. It was a packed house, and based on all the initial feedback from attendees, everyone had a great time.
Putting on an event of this size and scope takes a tremendous amount of team work, and we are extremely fortunate to have an amazing crew of volunteers to support our event. Literally thousands of hours go into planning, prepping, and executing the Banquet and raffle every year, and each year we strive to make it just a little better, and add fresh items and games to keep folks coming back.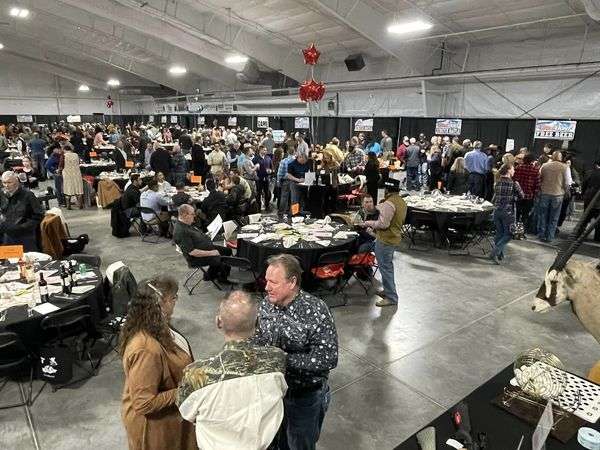 We also drew the winners of our eight major raffles at the event last night. This year we had entries from all 48 states where online raffles entries are legal! This was a first for us as usually there are at least a few states with no entries. Wow! And the diverse nature of the entries is once again reflected in the winners, two of whom are from outside Colorado.
We are already planning for next year's event, which will once again be at the Norris Penrose Event Center on the first Saturday in March. So without further preamble, here are the raffle winners. Congratulations to all of them!
2023 Raffle Winners
Stevinson Hunter's Dream 6 Gun Pkg


Christensen Arms .300 Win Mag


Leica Geovid Binos

Joshua Weiss


Eaton, CO
Ticket #144

Jordan Hodapp


Elizabeth, CO
Ticket #739

Ariz Snellstrom


Leadville, CO
Ticket #766

Statewide Pronghorn Tag


Statewide Deer Tag


Statewide Elk Tag

Jon Rey


Bayfield, CO
Ticket #030

Will Ellison


Midland, TX
Ticket #1798

James Perry


Livermore, CO
Ticket #1648
NM Guided Elk Hunt

Statewide Moose Tag

Ralph Newman


Lincoln, AR
Ticket #558

Dana Roe


Bailey, CO
Ticket #2890
Less than 24 hours to go!!!!



Just a quick reminder to all that our banquet is tomorrow night! We are really looking forward to seeing everyone. The even is SOLD OUT, but for those with banquet tickets, the location and timing information is below.
WHEN: Saturday, March 4, 2023
WHERE: Norris Penrose Event Center,1045 Lower Gold Camp Road, Colorado Springs, CO 80905
TIME: 4:00 – 6pm for Cocktails, Dinner and Live Auction Starting at 6pm
Games and over 100 Silent Auction and Raffle Items!!
The 2023 Banquet Is Sold Out…

Wow!! Over a week to go and all seats for the banquet have been sold. We sometimes have folks cancel due to unforeseen circumstances. If that happens we will open those seats back up on the website. So keep checking back if you are still looking for tickets.

Banquet Season Is Upon us!!!

Save the date: The 43rd SCI Colorado Fundraiser Banquet will be on March 4th, 2023. We will be back at our new home, the Norris Penrose Event Center, in Colorado Springs. Last year's event was a roaring success with lots of excellent feedback on the new venue. We are making a few minor tweaks, like having a team to help direct parking, but all in all things will be very similar to last year! Some plan to come on out an join us at what we consider the best event of it's kind (we may be just a tad biased though!)
We will update the web page, and send out email notifications, one the banquet tickets and raffle sales go live in the coming weeks. But for now, mark out Saturday March 4th on your calendars!
2022 Raffle Winners
Stevinson Hunter's Dream 6 Gun Pkg


Christensen Arms .300 Win Mag


Leica Geovid Binos

Michael Mersman


Colorado Springs, CO
Ticket #487

Scott Huette


Weimar, TX
Ticket #715

 Edmund Flansburg


Aurora, CO
Ticket #029

Statewide Pronghorn Tag


Statewide Deer Tag


Statewide Elk Tag

Carl Rummel


Greeley CO
Ticket #194

Richard Tidd


Monument, CO
Ticket #1231

Chad Davidson


Pueblo West, CO
Ticket #0338
NM Guided Elk Hunt

Statewide Moose Tag

Lee Taylor

Woodland Park, CO
Ticket #890

Cade Luckett

Lubbock, TX
Ticket #2195
ONLY FIVE DAYS TO GO!!!
We are rapidly closing in on our 42nd SCI Colorado Fun-draiser Banquet and the team could not be more excited to see everyone in person! We are effectively SOLD OUT for our event, but are finalizing a few things and we may have a few more tickets later this week. SO if you do not have a ticket yet, keep checking back. 
The event will be at the Norris Penrose Event Center. So please adjust your auto pilot not to go to our former venue:
WHEN: March 5, 2022
WHERE: Norris Penrose Event Center,1045 Lower Gold Camp Road, Colorado Springs, CO 80905
TIME: 4:00 – 6pm for Cocktails, Dinner and Live Auction Starting at 6pm
Really looking forward to seeing everyone there!!!
Online raffle sales will end at midnight on Friday 4 March, but tickets will be available at the event!!
SAVE THE DATE!!!
It feels like a decade since we've had the opportunity to get together with our extended Colorado outdoors family. It HAS been nearly two years for most of us. Our last banquet squeaked in just under the wire on March 14, 2020, and my how the world has changed since then. We have had a few last minute "opportunities" as well, Hotel Elegante has been sold and cancelled all events without notice. But we have managed to find a venue that can hold our event and are excited to announce that the SCI Colorado Fun-draiser Banquet 2022 WILL go on!!! 
We will be at the Norris Penrose Event Center in Colorado Springs,  March 5th for  our 42nd Annual event!! We weren't able to hold a dinner in 2021, but we are back full force to join together to renew friendships and raise money for dozens of projects promoting conservation, education and humanitarian issues. Meals this year will be Surf & Turf with Salmon and Steak for everyone, so no more having to select meals to register, but we still need names and contact info for all attendees.
Obviously one downside to the new venue is that the event and lodging will not be at the same location. So for folks that plan to have a grand time, we would suggest finding a hotel in Colorado Springs (this link may be helpful!) and then using Uber/Lyft/Taxi to get to and from the event.
Registration for dinner and corporate tables will be open in the next week or so. (Our original venue closed so we had to adjust and proceed!!)
The very popular raffles that we hold will also go on sale in the next week or so. Watch your email for the kickoff, or you can just watch the website. (Watch this space!) The winners of all of the raffles will be posted on our website on March 6th, but would love to have you join us for the Fun-draiser Banquet on March 5th, and then you'll know as soon as we pull the winners! Either way, we wish you luck!! www.scicolorado.org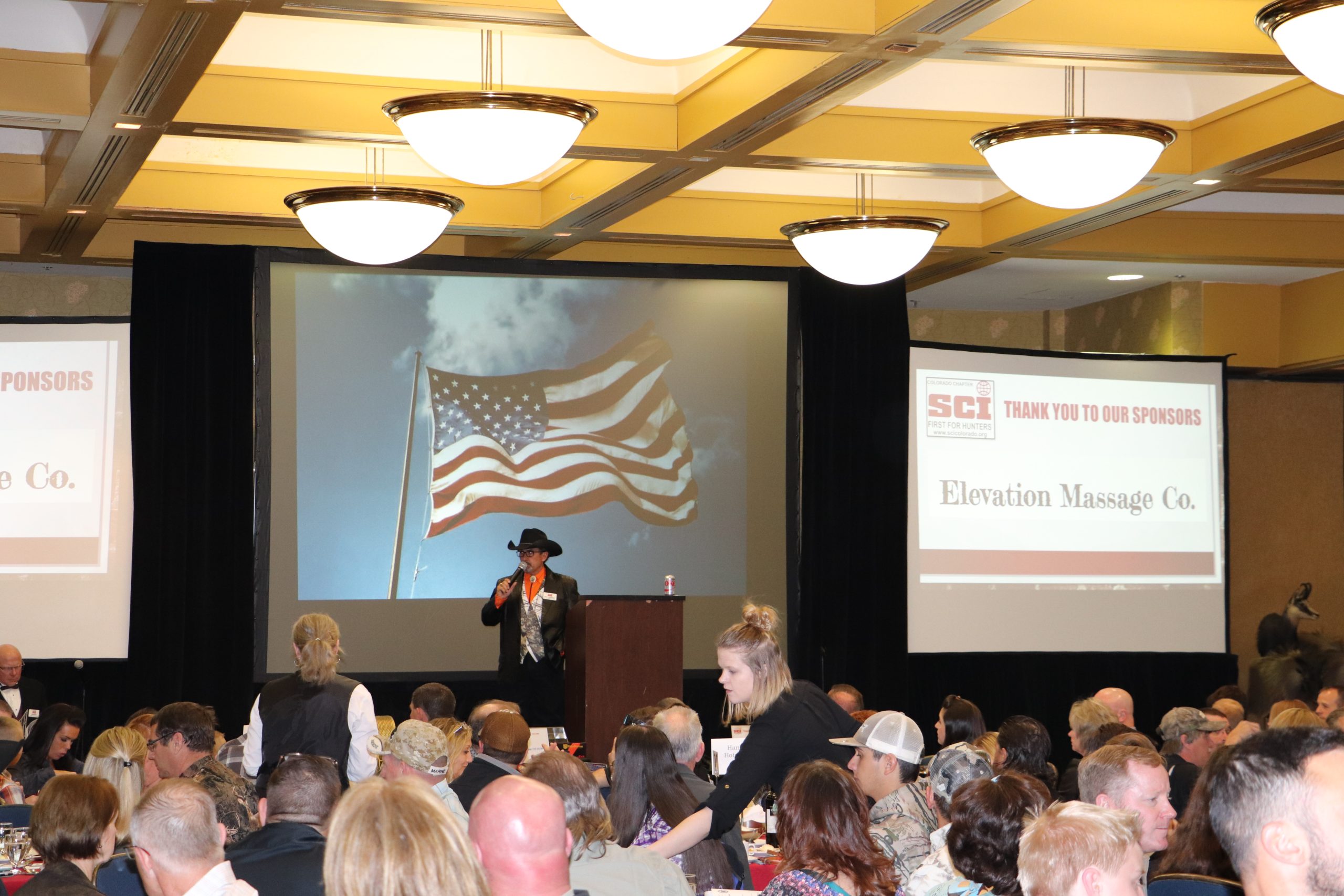 The 2021 Raffle Is A Wrap!!!
WOW! What a year it has been. First COVID shuts down all the venues in the area and forces us to cancel out annual banquet, and then as we are literally coming down to the final hours of the raffle, Mother Nature decides to dump more snow on our heads than we have seen in quite some time. Add to that high winds resulting in whiteout blizzard conditions, (and intermittent Internet outages for our intrepid chief nerd), and to say it was looking like the odds were against us seems kind of a mild description. One of our board members literally spent eight hours shoveling his driveway today so he could come and help us with the drawing!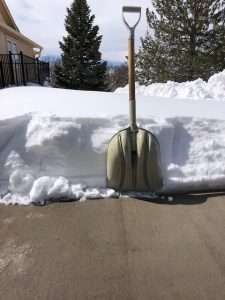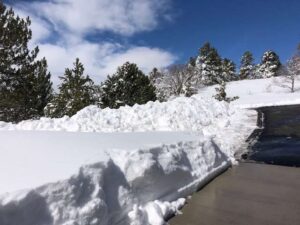 But things worked out, as they usually do. I like to say "No one knows how, it just happens", but that isn't exactly true. We have a lot of very dedicated folks that work really hard to make sure things get worked out. Whether it's finding prizes for the raffle, coordinating with CPW, sticking stickers on THOUSANDS of raffle tickets, or just making sure the drawing actually happens and goes smoothly, everyone pulls together. Here we see two of our board members selecting the winning ticket's from this year's raffle. And yes, they are a bit under dressed compared to the way you would typically see them for the annual banquet, but as I mentioned, there was a lot of snow shoveling required to get to this point….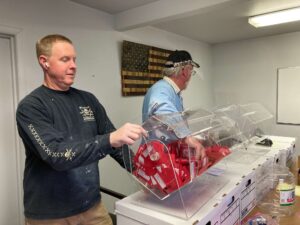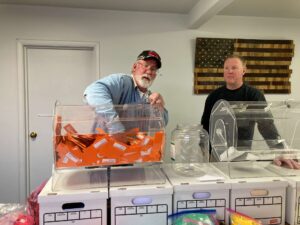 We would like to congratulate all of our winners this year. For those of you who won one of the Statewide tags, CPW will be given your info tomorrow and will be reaching out. For anyone winning one of the other prizes, our board will be reaching out over the next couple days to contact you about your prizes.
MARK YOUR CALENDARS for March 5th 2022 when our Annual Banquet returns in full force!  
And now without further adieu, The 2021 SCI Colorado Raffle Winners!
2021 Raffle Winners
Stevinson's Winner Take All 6 Gun Pkg


Christensen Arms 6.5 CM


Leica Geovid Binos

Steven Klaus


Georgetown, TX
Ticket #0034

Tanner Schwartz


Johnstown, CO
Ticket #0228

 Scott Feuerstein


Henderson, CO
Ticket #0499

Statewide Pronghorn Tag


Statewide Deer Tag


Statewide Elk Tag

Jeff Demaske


Greeley, CO
Ticket #0145

Adam Pierce


Salida, CO
Ticket #0846

Thomas Jones


Nixa, MO
Ticket #0090

NM Guided Elk Hunt

Statewide Moose Tag

Browning A5 Shotgun

 Robert Wallace


Humble, TX
Ticket #0151

Ben Harding

Colorado Springs, CO
Ticket #1099

Kyle Swanson


Pueblo, CO
Ticket #0688
STAY INFORMED
We have gone paperless, for the most part, so don't look in your mail box for printed information about our event and the raffles.  Our website is the place to go, and if you would like to make sure that you are getting the most up to date info and offers, OPT IN for our SCI E-News.  (We do not share our lists so you can be sure the emails are from us, and not one else!!) We promise you that we will not hound you with mindless junk but we need and WANT to stay in touch with you.  If you would like to get notices of our raffles and events, OPT IN to our email list.  We will never rent or sell our list.  It is safe here.  We promise.
WE ARE MORE THAN JUST FUNDRAISING
The Colorado Chapter is more than fundraising.  That is a huge component of what we do, but the great thing about raising money is getting to SPEND the money on conservation projects such as habitat for Colorado Moose; Humanitarian projects like the Sportsmen Against Hunger program where we collect meat and food and donate on an ongoing basis to a dozen food banks and shelters; and the Education arm of our chapter where we are very active in the Archery in the Schools program.  These are just a sample of what we do with the money we raise.
God Bless our Men and Women in uniform and we thank all of you who have done so in the past.
On Target News
[custom-facebook-feed feed=1]
2020 Raffle Winners
Stevinson's Hunters Dream Gun Pkg


Kimber Classic Limited Edition 6.5 CM


Leica Geovid Binos

NM Guided Elk Hunt

Glenn Exline


Colorado Springs, CO
Ticket #0184

Joseph Wohlwend


Pueblo West, CO
Ticket #0336

 Rodney Constance


Greeley, CO
Ticket #0799

 Douglas Brimmer


Chesterfield, MI
Ticket #0712

Statewide Pronghorn Tag


Statewide Deer Tag


Statewide Elk Tag

Statewide Moose Tag

Trent Swanson


Eagle, CO
Ticket #0184

Jim Single


Sidman, PA
Ticket #1956

Bret Fuller


Roxborough, CO
Ticket #1277

Loren Dellinger


Mead, CO
Ticket #0951
2019 Raffle Winners
Gun Safe + Six Guns

Sako A7 Roughtech 30-06


Leica Geovid Binos

NM Guided Elk Hunt

Jeffrey Larson

Cornell, WI
Ticket #0353

Joshua Smith

Monahans, TX
Ticket #0362

 John Lydiatt

Colorado Springs, CO
Ticket #0042

 Kyle Swanson

Pueblo, CO
Ticket #0585

Statewide Pronghorn License


Statewide Deer License


Statewide Elk License

Statewide Moose License

Jason Roe

Denver, CO
Ticket #0997

Jeffrey Bassagoitia

Brighton, CO
Ticket #1750

Lowell Edgerton

Laporte City, IA
Ticket #1232

Thomas Kitchen

Greeley, CO
Ticket #0510
2018 Raffle Winners
Gun Safe + Six Guns

Kimber Montana Rifle

Leica Geovid Binos

NM Guided Elk Hunt

Statewide Elk License

Statewide Moose License

Jennifer Norris

Ticket #0089

McKenna Valdez

Ticket #0098

Glenn Exline

Ticket #0236

Rick Wilking

Ticket #0521

Chad Pulsifer

Ticket #0814

Jason Roe

Ticket #1326
2017 Raffle Winners
Gun Safe + Six Guns

Rifle Sako Finnlight 85 .270 WSM

Leica Geovid Binos

NM Guided Elk Hunt

Statewide Deer License

Statewide Moose License

Gary Patterson
Peyton, CO
Ticket #394

Ltc (Ret) Mark Herrin
Highlands Ranch, CO
Ticket *0294

Dave Snellstrom
Colorado Springs, CO
Ticket #0766

Steven Strauch
Elbert, CO
Ticket #0124

Robert Sullivan
New Castle, CO
Ticket #1186

Thomas Jones
Nixa, MO
Ticket #0190